As we get more and more into our ominous drought, landscape plants are being scrutinized for their water consumption.  Now cities are mandating that only certain plants may be planted even in residential settings.  Southern California cities like Glendora, Glendale, Burbank, and others have recently sent a letter out to all their residents halting any further implementation of landscape that do not meet water friendly requirements. So what are we to do now that we cant put in our Boxwood hedges, Queen Palms and Callalilies? It's time to go native!
After many years of lying 'dormant', native plants are really making a name for themselves.  We got all too comfortable planting the thirsty European/ Asian hand-me-down perennials, but now that our over-zealous water usage has caught up with us, it's time to see what beauty lies within the flora of our own backyard.
For starters, increasing in popularity, are the vast array of succulents available to us now.  Just up until fairly recently, the availability of succulents were mainly varieties of Crassula (Jade Plant), and Kalonchoe.  Remeber, they always made an appearance in Christmas baskets and funeral arrangements?  Now succulents have earned a place in the forefront of our landscapes with many varieties of Echeverias, Sedums, Duddleas, Graptoverias, Sembervivums, Aeoniums, and countless others.  We seem to come across a new succulent every day there are so many!  So where have all these hidden gems been? Lying in wait for a water crisis to spark their intrigue I guess.
What about shrubs and perennials? Can a California native garden be lush and green and not just a bunch of cacti and succulents? Absolutely! That is one of the biggest misconceptions we run into when asked about planning a native garden.  "I dont want the desert look," many customers say.  And we say, "Not a problem!" With the right combinations and a little knowledge of native plants, we can make any garden lush and inviting like never before.  And it doesnt just stop with the visual aesthetics of the plants.  The scent when walking through a CA native landscape is like taking a hike through your local nature trail.  The rain releases even more organic richness as the variety of Sages give a gentle aroma to the air. The light breeze moves the Fountain Grasses back and fourth whispering as the blades sweep across each other.  The plants are joined by Mountain Blue Jays and Monarch butterflies that are attracted by the pungent scents and the large purple spikes of the Buddleja.  At dusk, the golden sunset glistens off the fluttering leaves of the Redbud's new growth, rich in contrasting burgundy and green tones.  Have we painted the picture??
So what are some of these plants that we are boasting about?  Well you may have seen a great deal of them already on nature trails and botanical parks.  Lets take a look at a few key plants that have been great additions to our CA native inventory: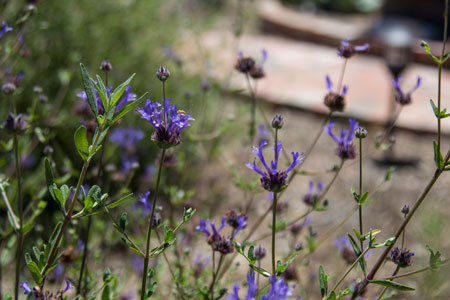 Salvia clevelandii (Cleveland Sage) – This plant comes up a lot as one of our favorites because, well, it is!  Its a great all around mid-size woody perennial with gorgeous gray-green foliage and prolific light purple blooms.  It will get about 4-5 feet tall and wide so use it as a background plant in a residential setting.
Muhlenbergia rigens (Deer Grass) – Deer Grass is a beautiful feather grass with puffy plumes of cream colored blooms.  Extremely drought tolerant and adds a fine wispy texture to the garden. 2.5′ tall with plumes reaching up to 4 feet tall.  Use as a single specimen or in groupings.
Achillea 'Paprika' (Paprika Yarrow) – a wonderful little perennial for hot dry areas, Achillea packs a punch of colorful blooms in the Summer.  Very easy to care for and can can adapt well to most soils.  Use this plant for fire-wise planting.
Penstemon Spectabilis (Showy Penstemon) – This incredible plant tolerates many soils, can withstand dry heat, and attracts birds.  If thats not enough, it will produce beautiful flower stalks in late Spring which can be cut for arrangements.  2-3 feet tall and wide.
Lobelia laxiflora (Mexican Lobelia) – Use this plant to bring loads of hummingbirds to your garden! Lobelia makes a nice mid-height ground cover and produces flowers throughout the year. 2-3 feet high and will spread with rhizomes underground.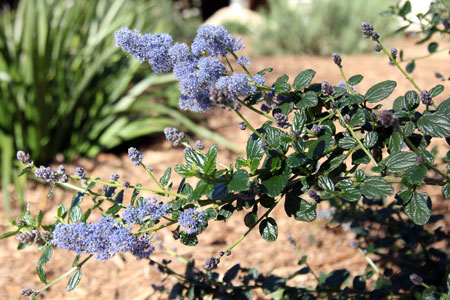 Ceanothus 'Concha' (Mountain Lilac) – A beautiful mounding shrub with dark blue cone shaped flowers appearing in Spring.  Use this plant to boarder a fence line or somewhere where height is desired.  It'l reach about 8 feet tall and 10 feet wide in it's maturity.  And those of you that live in mountainous areas, Ceanothus is also deer resistant.
Native plants are all around us.  Often times unappreciated.  Now that we have better availability on these wonderful specimens, we can be including them more in our landscape projects.  Not only are their visual aesthetics so intriguing and distinct, we are helping our environment and saving a little cash on our water bills. Considering city regulations during this drought, don't be surprised if natives are the only plants we will be able to use in the near future.  So might as well get a jump on it!