Truly one of the most architecturally dynamic plants available in Southern California is the Red Grass Palm, scientifically known as Cordyline australis 'Red Star'. When found in nurseries, the plant is surprisingly deceitful when in its infancy due to the fact that it looks so much like the New Zealand Flax, or Phormium tenax. One might grab one in a hurry thinking they selected a Flax only to be it home and find in 2 years down the lines….it's tripled in height!  It's narrow slender trunk accents vertical walls where height is needed, and bold dark purplish-crimson strappy leaves add a strong color and textural contrast to light backgrounds.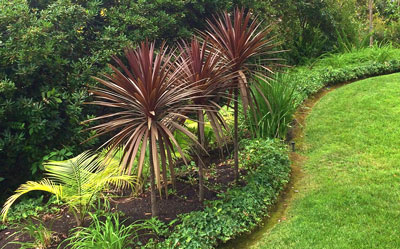 There are several ways to use the Red Grass Palm in the landscape that will maximize its incredible features. Perhaps the most popular is to plant it in a pot. Cordyline typically has a fairly shallow root structure and is drought tolerant, thus making it a perfect container candidate. As it matures, the leaves will flop down and eventually fall off exposing the trunk. After this happens, one can now plant annuals,  small succulents, or other low-growing plants as the 'understory' to the Red Grass Palm. So even as the plant changes over time, it can still remain pertinent just by adding a few surrounding plants.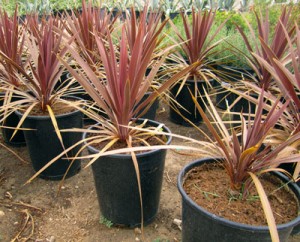 Use the Cordyline australis as a single specimen to highlight a specific piece of architecture. A large monotone wall can be accented with the tall vertical structure of the Red Grass Palm to visually 'break up' the expansiveness. This can be seen often times in mid-century modern homes where large oversized intersecting walls were typical of the architecture and needed to be 'softened' by a plant or tree. The Red grass Palm does just that.
How do you grand up and entry? The Red Grass Palm is the answer. Because of its unique characteristics, it can attract the eye to direct traffic to an entry point. Be careful with this application however, as the Grass Palm will certainly reach heights of 10 plus feet eventually, so plan for the future!
The Red Grass Palm is quite an impressive plant overall and has qualities that make it appropriate to use in many conditions. It transcends design styles as it lends itself to tropical, southwestern, or modern. It can be used in pots or in the landscape. It's lush, but drought-tolerant. It's simple elegance makes the Grass Palm the perfect selection when you need to make that perfectly stated impact in your garden.
Find more information at budgetplants.com