Are you looking for lawn replacing plants? Let's face it! Water is becoming an ever-growing concern for the Southwest, especially here in Southern California. The climate here is essentially a desert and the only reason why we can grow high-water usage plants are from our ability to import water from other counties. And as the well dries up so to speak, the timeless appreciation for the California lawn is becoming a love-hate relationship after disgruntled homeowners gasp in disbelief at the sight of their sky rocketing water bills. More and more restrictions are being put on water usage in LA and surrounding cities and as a consequence, our once vast green lawn are now paying the price. So want do we do? Just sit back and let our lawns die? Absolutely!
In fact, many cities such as Long Beach and South Pasadena, now have programs that will offer cash rebates to kill your lawn and replace it with a drought tolerant landscape.  Of course we all know that Californians have an undying need to have a lawn, so how do we solve this conundrum? Well the typical "lawn" such as Saint Augustine or Marathon may soon be a thing of the past, but breaking through the silver lining are incredible breathtaking alternatives to lawn as we know it.  Here is three great options catering to three completely design styles.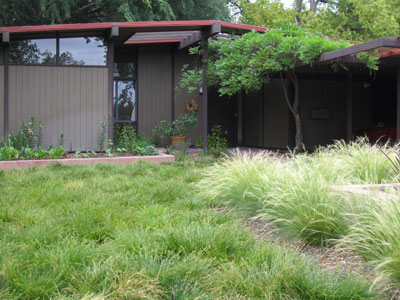 One of our favorite lawn-replacing plants is Carex divulsa, commonly known as Berkeley Sedge.  This prolific little grass gets only about 20″ high and creates a wonderful meadow-like feel making it a perfect selection to create a lush, woodland appearance. The versatility of this plant is quite impressive. It can accommodate both sun and shade, does well in wet or dry soils, and is an evergreen, so it will have no dormant period.  It can also tolerate temperatures well below 0 degrees fahrenheit! But here's the coolest part of this plant. In the Summer, Carex divulsa will produce an arching stem with small wheat-like flowers which will then go to seed.   These seeds will then drop and proliferate.  So if you want to cover a larger area, you don't need to purchase a ton of these plants.  Just plant them about 12″ apart and know that they will eventually fill in beautifully. Of course if your looking for more instant gratification, they may be planted as close as 7″ on center.  Since this plant is reminiscent of a lush meadow environment, a nice pairing with this plant is the use of a dry stream bed to really hit a home run with the natural setting. Plants to use in conjunction with Carex Divulsa include Coffeeberry, California Fuschia, Blue-Eyed Grass, and many varieties of Mountain Lilac.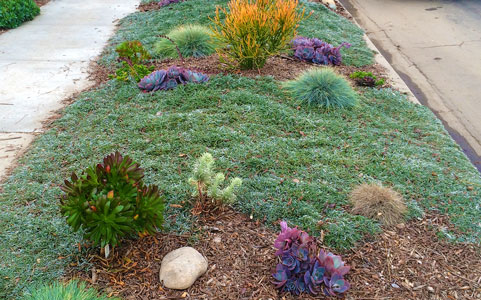 A second very noteworthy plant that can take the place of grass that isn't a grass at all- Dymondia margaretae, of commonly known as Silver Carpet. This little ground cover is becoming more and more commonly used for people who want a tight turf look like a freshly mowed lawn but don't want the high water and maintenance bill. It stays low to the ground, has a nice silvery gray foliage color and, although not prolific, produces a little yellow flower on occasion.  It lives up to its name by cresting a dense 'carpet' of foliage that spreads quickly and can actually take a decent amount if traffic once established. Use Dymondia in a parkway where some foot traffic may occur and plants need to be kept low. It goes hand in hand with a Mediterranean or Southwestern themed landscape and will nicely offset darker colored succulents such as Echeveria 'Afterglow' or Aeonium 'Schwarzkopf'.  Use woody perennials and grasses to compliment the texture of the succulents, such as Salvia clevelandii, Muhlenbergia capillaris, and Galvezia speciosa.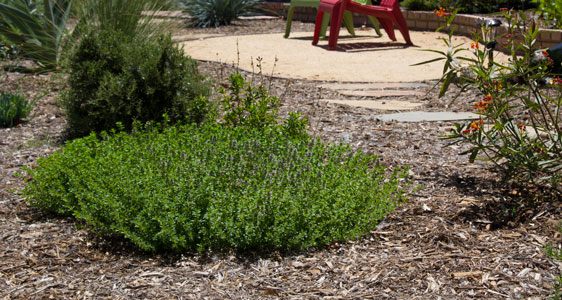 A third plant that comes to mind that can certainly give a nice solid turf effect would be Creeping Thyme, or Thymus serpyllium.  Although not the Thyme typically used in the culinary arts, it serves other incredibly useful needs in the landscape. It can cover an area quickly and use very minimal water.  It has a nice long bloom and will be fairly low maintenance.  Plant Thyme is full sun for best results but it can still take a little shade. Thy
me can pretty much transcend style.  It can go well with a cottage garden, Southwestern/ Mediterranean, and can even be used with many California natives. Compliment Creeping Thyme with Pennisetum, Euphorbia, Senecio, and Lavender.
There are so many great turf replacing options availlable.  The main issue lies within ourselves to change our mindset about the 'need' for a lawn.  Just remember what our good friend Mark Twain said, "The grass may be greener on the other side, but you can bet the water bill is higher."