There are literally hundreds upon hundreds of trees to select from when planning a landscape. Those that are not adept to the plant world might feel a little overwhelmed with all the information which may begin to sound like Greek after a while. Even though variety is the spice of life, too many options can still be too much of a good thing. So to simplify the selection process a bit, we have outlined our top 3 best trees for a drought-tolerant residential landscape that have proven themselves time and again.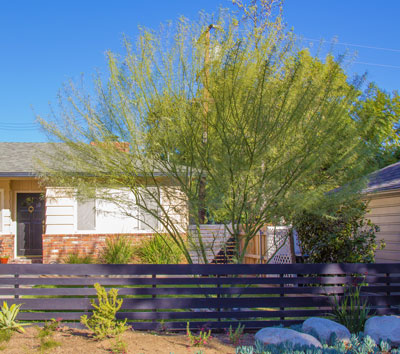 One of our personal favorites which certainly makes the top 3 is the Desert Museum Palo Verde, also know by its botanical name, Cercidium x Desert Museum. Once this tree is established it needs  very little supplemental water making this one of the most drought resistant trees in the western region of the US. It's long bloom period and attractive bark makes this tree an incredible eye-catching accent.  And even though it does loose its foliage in the Fall, the mess is fairly minimal because the leaves and flowers are so finely textured it mulches right in with the soil. With a max height of about 25 feet and an equal canopy width, it will fit into most residential landscapes.  However, the Palo Verde seems to look best in either a Southwestern style or, oddly enough, a modern style landscape. Note that some other varieties of the Palo Verde have thorns, the Cercidium Desert Museum is a true thornless variety.
Cercis canadensis 'Forest Pansy', commonly known as the Forest Pansy Redbud, has a dear place in our hearts in the realm of drought tolerant trees.  Yes, maybe it's heart-shaped leaves have something to do with it, but that's just one of this tree's enduring characteristics. Loaded with brilliant pink flowers in the late Winter, attractive crimson colored leaves appearing in late Spring, and beautiful branching structure after the leaves fall, the Forest Pansy Redbud is a show-stopper all hear round.  And if that's not enough, the Cercis Forest Pansy attracts hummingbirds, tolerates many soil types, and resists deer.  Best in woodland settings, this tree can work well with Ceanothus, Iris Pacific Coast Hybrids, Salvias, and many native grasses. The Cercis will drop leaves, flowers, and seed pods but the beauty far outweighs the cleanup in our opinion. It will grow to about 20 feet tall with a 15 foot wide canopy and can be planted as a single specimen or in groups to create a grove-like setting.  In hotter inland climates, the Cercis will like partial shade to be protected from the hot afternoon sun.  In areas where the look of a Japanese Maple might be desired but climate doesn't allow, try planting a Forest Pansy Redbud. No doubt you'll fall in love.
Last but certainly not least is the Arbutus 'Marina, or the Marina Strawberry tree. Unlike the Palo Verde and the Forest Pansy, the Arbutus Marina is an evergreen, meaning it will not loose its leaves in the cool season (deciduous being the opposite).  It is also much larger, growing to about 45 feet tall, thus providing more shade if needed, so give this tree some room to grow into the space when planning how far it will be from walls, roof lines, etc.  The attributes of the Arbutus are most impressive. It is very drought tolerant, has wonderful little clusters of multicolored berries, and resists deer and sea cost conditions. But perhaps the most impressive of all features is the brilliant reddish smooth bark of the Marina Strawberry Tree. The structure of the trunk can be either a single or multi-trunk form. The bark contrasts wonderfully against the deep green leaves and makes white a spectacular site specifically when lit up at night. The look of the Marina Strawberry tree is such that it's not locked in to any one specific garden style. Weather modern, cottage, Southwestern, or woodland, feel free to plant this tree in most any landscape!
The options for trees are seemingly endless when planning a landscape. These are just 3 of our favorites that have been time-tested and continue to perform wonderfully year after year in the Southern California climate.