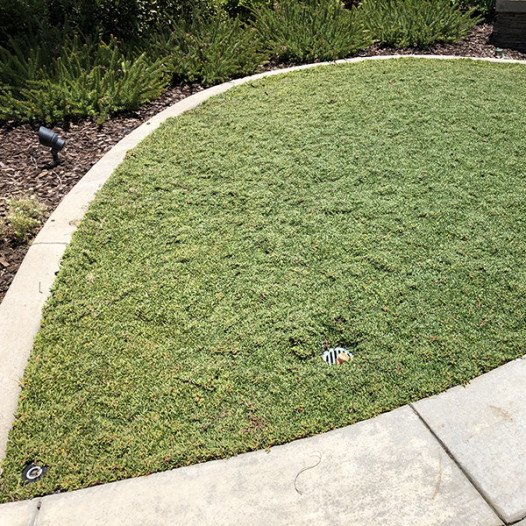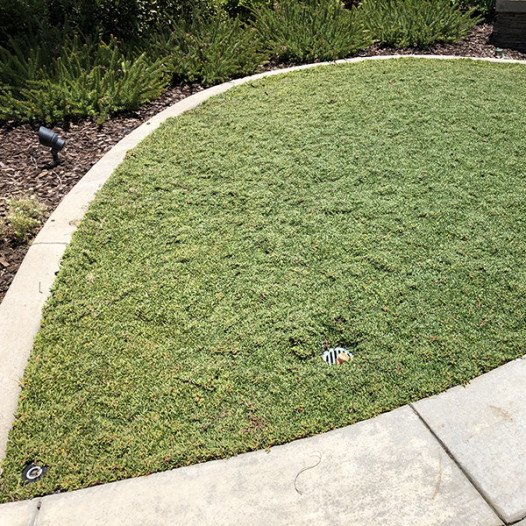 An incredible alternative to the traditional lawn!  Dwarf Carpet of Stars is amazingly hardy and can take a fair foot traffic.  Once established it's very drought tolerant.  The wonderful little ground cover only gets about 2 to 3 inches tall and spreads tightly on the ground by runners.  Plant Ruschia in full sun for best results, but it will also take part shade.  Ruschia has a main flowering season in Spring/Summer, then has a secondary season in the Fall with typically fewer flowers.  Note that in shaded areas, flowering will be significantly less than full sun areas.
Plant Ruschia lineolata Nana from flats, spacing the individual plants every 6 inches apart.  After about 4 to 6 months (depending on what season you are planting in) Ruschia will be fully grown together.  Each flat covers approximately 12-15 square feet.  Prepare the area well, making sure to remove all the weeds.  It's most often necessary to till the soil and add amendment for good drainage.  
Immediately after planting, keep the Ruschia plugs from drying out for the first 6-8 weeks.  After plants begin to establish, taper back on watering to once every other day.  After Ruschia is established (plants are fully filled in and touching), cut back watering to only about every 7-10 days in the warmer months.  This will vary by micro-climate, soil type, and individual site conditions. 
Ruschia is also great for erosion and weed control.  It is also fire-resistant as well.  For best vibrancy in foliage, give Dwarf Carpet of Stars a balanced fertilizer, such as a 10-10-10 ratio.  For patent info, please contact DLT Growers in Ontario, CA.
---
Foliage: Evergreen
Sun Exposure: Full Sun/lite Shade
Water Needs: Low/moderate
Bloom Season: Spring
Mature Height: 2-3"
Mature Width: 6-12"
Form: Prostrate
---
Proper planting technique will help your plants thrive! Follow these simple steps to help your plants establish quickly, develop a strong root system, and live longer:
Properly dig the hole
Amend the soil to suit each particular plant
Place the plant and backfill the soil
Provide ample water for each particular plant
Review our how to plant guide!
For detailed information, please download our planting guides:
We deliver to Southern California including Los Angeles County, Orange County, San Diego County, Riverside County, Imperial County, Ventura County, Santa Barbara County, and neighboring areas.
List of delivery zones and rates.

| Delivery Zone | Delivery Rate |
| --- | --- |
| Zone 1 | $69.00 |
| Zone 2 | $89.00 |
| Zone 3 | $109.00 |
| Zone 4 | $139.00 |
| Zone 5 | $179.00 |
| Extended Delivery | Contact Us |