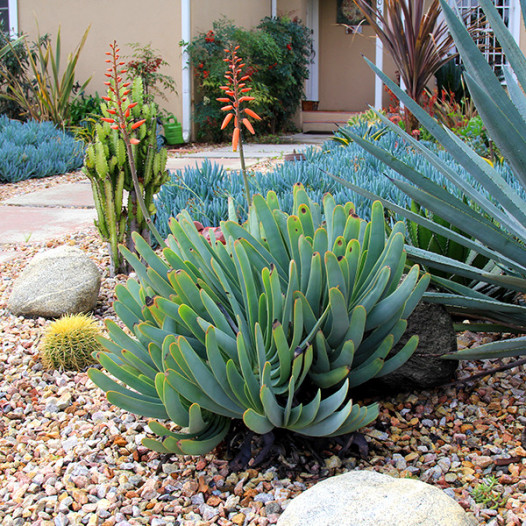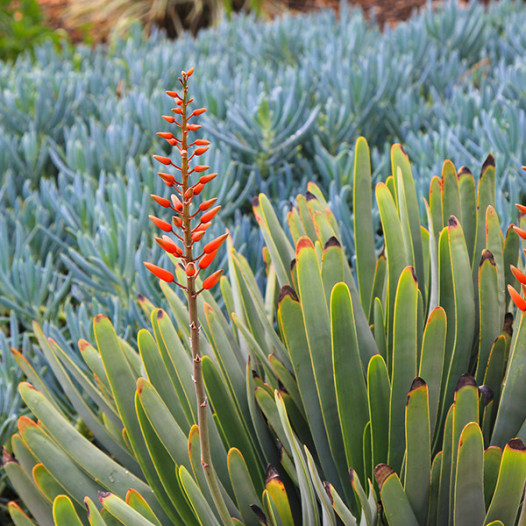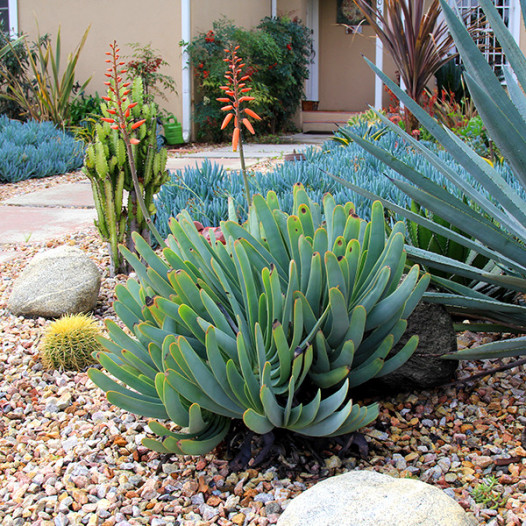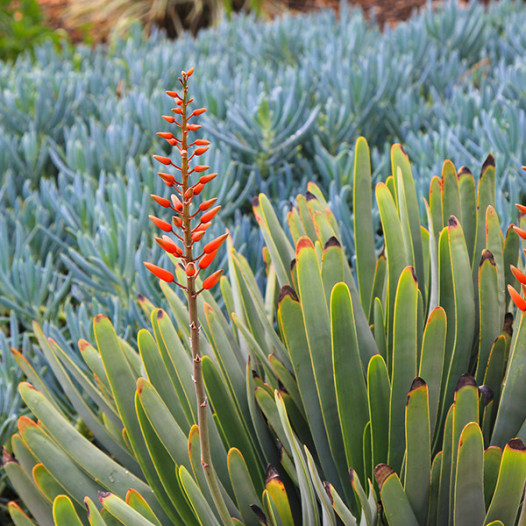 Aloe plicatilis is a large shrub-like succulent with a striking architectural growth structure.  Gray bark-like stems have lage medium green fan-like leaf clusters that range from 8 to 12" long.  Onder plants almost look like a Bonsai tree in structure.  A mature plant may reach up to 4-5 or more, but in their native environment of South Africa, they can get up to 10 plus feet tall.  Give the Fan Aloe well-drained soil and occasional cool season watering in areas where rainfall does not occur.  In Winter/Spring, an orange flower spike will emerge from each fan cluster making for a beautiful presentation.  It will also attracts humminbgbirds and butterflies.  Great for a single specamin in a pot.  Looks incredible at night with landscape lighting.  Native to South Africa.  Hardy to about 25 deg. F.  
---
Foliage: Evergreen
Sun Exposure: Full Sun (6+ Hours Of Direct Sunlight)
Water Needs: Low
Bloom Season: Winter/spring
Mature Height: 4-5'
Mature Width: 4-5'
Attributes: Deer Resistant, Southwestern Garden, Cacti & Succulents
---
Proper planting technique will help your plants thrive! Follow these simple steps to help your plants establish quickly, develop a strong root system, and live longer:
Properly dig the hole
Amend the soil to suit each particular plant
Place the plant and backfill the soil
Provide ample water for each particular plant
Review our how to plant guide!
For detailed information, please download our planting guides:
We deliver to Southern California including Los Angeles County, Orange County, San Diego County, Riverside County, Imperial County, Ventura County, Santa Barbara County, and neighboring areas.
List of delivery zones and rates.

| Delivery Zone | Delivery Rate |
| --- | --- |
| Zone 1 | $69.00 |
| Zone 2 | $89.00 |
| Zone 3 | $109.00 |
| Zone 4 | $139.00 |
| Zone 5 | $179.00 |
| Extended Delivery | Contact Us |