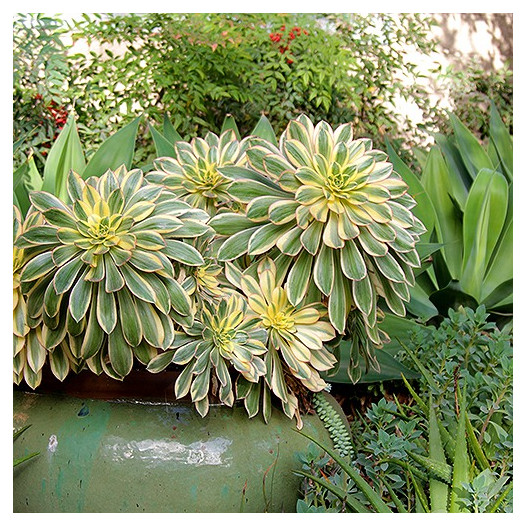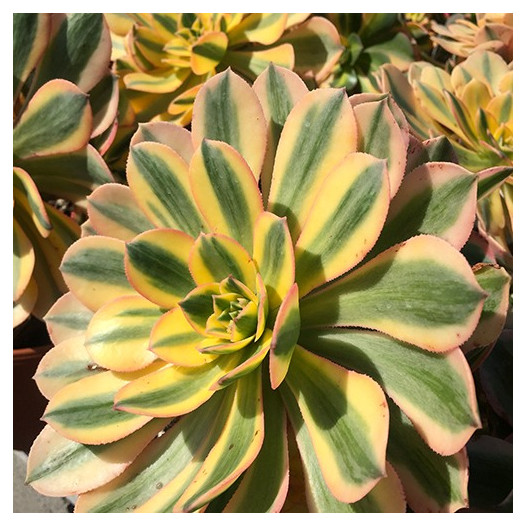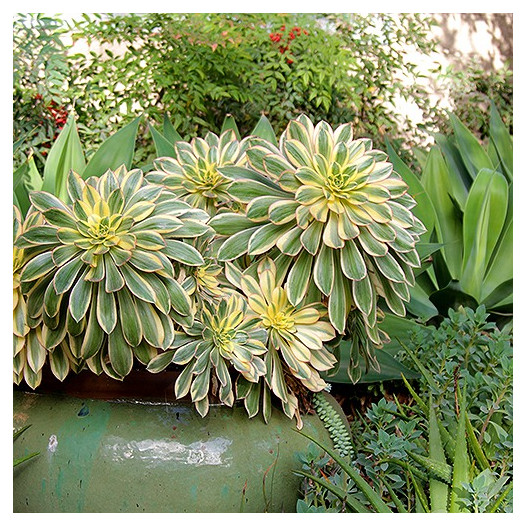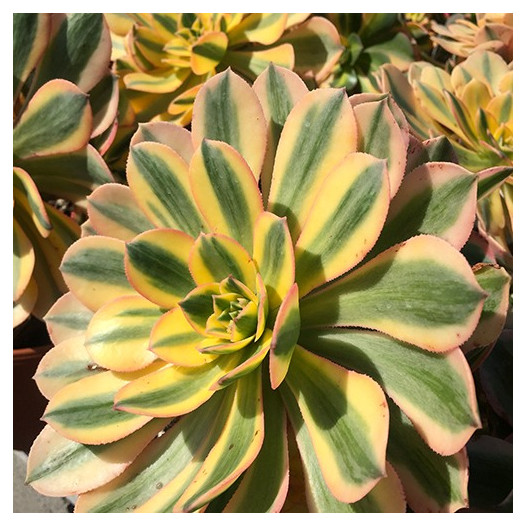 A beautifully variegated Aeonium with creamy yellow leaves with a stripe of green down the middle.  The leave's edges boast a fun reddish tinge to add to the showiness.  The large rosettes can get up to 16 inches wide!  The plant itself may reach up to about two and a half feet with equal spread.  Plant Copper Pinwheel in full sun and provide well-drained soil.  Tolerates drought very well and requires little Summer watering.  It's also suitable for seaside conditions and xeriscaping.  Sometimes sold as Aeonium decorum 'Tricolor'.  Other forms under the same may exist which have subtle variations, such as a more whiteish variegation or different streaking patterns.  Hardy to 30 deg. F. 
PLEASE NOTE, ON ALL CACTI AND SUCCULENTS:  WHEN SELECTING DESIRED SIZE, 6" POTS ARE THE SAME SIZE AS 1 GALLON.  ONE GALLON POTS SIMPLY CONTAIN MORE SOIL.  NOTE THAT WHEN EITHER SIZE IS ORDERED, WE MAY SEND OUT YOUR PLANTS IN EITHER THE SHORT OR TALL CONTAINER.
---
Foliage: Evergreen
Sun Exposure: Full Sun (6+ Hours Of Direct Sunlight)
Water Needs: Low
Bloom Season: Summer
Mature Height: 1-2'
Mature Width: 1-2'
Attributes: Drought Tolerant, Xeriscape, Southwestern Garden, Seacoast Tolerant, Cacti & Succulents
---
Proper planting technique will help your plants thrive! Follow these simple steps to help your plants establish quickly, develop a strong root system, and live longer:
Properly dig the hole
Amend the soil to suit each particular plant
Place the plant and backfill the soil
Provide ample water for each particular plant
Review our how to plant guide!
For detailed information, please download our planting guides:
We deliver to Southern California including Los Angeles County, Orange County, San Diego County, Riverside County, Imperial County, Ventura County, Santa Barbara County, and neighboring areas.
List of delivery zones and rates.

| Delivery Zone | Delivery Rate |
| --- | --- |
| Zone 1 | $69.00 |
| Zone 2 | $89.00 |
| Zone 3 | $109.00 |
| Zone 4 | $139.00 |
| Zone 5 | $179.00 |
| Extended Delivery | Contact Us |