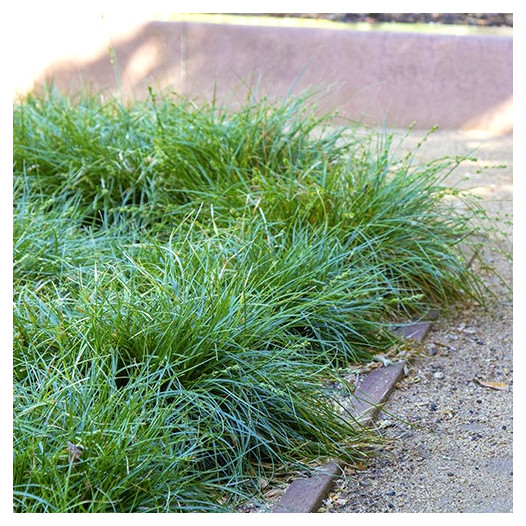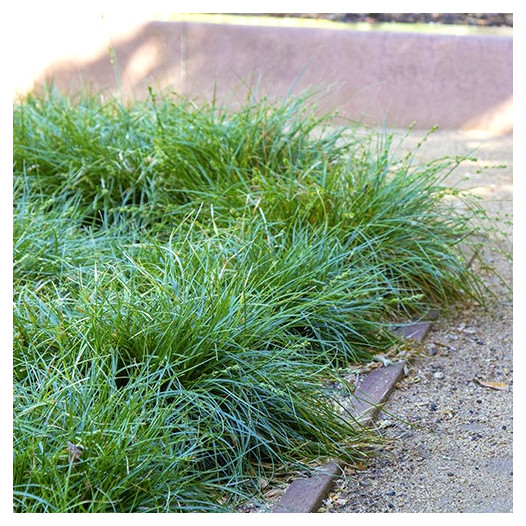 Berkeley Sedge is a clumping native grass found in meadows along the lower coastal planes of central and northern California all the way up to British Columbia.  Carex divulsa does best when given moderate water and planted in filtered sunlight.  It can be a good lawn-replacing plant as it requires less water and will still provide an open feeling.  Carex will give a natural meadow-like look which can be great when doing a woodland or Zen themed landscape.  It will grow to about 14-18" tall and 24" wide and will reseed and naturalize the space.  Tiny wheat-like flowers appear in Spring.  Other names that this plant may go by: Carex tumulicola, European Gray Sedge.  Hardy to about 10 deg. F.
---
Foliage: Semi-deciduous
Sun Exposure: Sun Or Shade
Water Needs: Moderate
Bloom Season: Spring
Mature Height: 1-2'
Mature Width: 1-2'
Attributes: Drought Tolerant, Woodland Garden, California Native Garden, Mediterranean & Tuscan Garden, Shade Plants, English & Cottage Garden
---
Proper planting technique will help your plants thrive! Follow these simple steps to help your plants establish quickly, develop a strong root system, and live longer:
Properly dig the hole
Amend the soil to suit each particular plant
Place the plant and backfill the soil
Provide ample water for each particular plant
Review our how to plant guide!
For detailed information, please download our planting guides:
We deliver to Southern California including Los Angeles County, Orange County, San Diego County, Riverside County, Imperial County, Ventura County, Santa Barbara County, and neighboring areas.
List of delivery zones and rates.

| Delivery Zone | Delivery Rate |
| --- | --- |
| Zone 1 | $69.00 |
| Zone 2 | $89.00 |
| Zone 3 | $109.00 |
| Zone 4 | $139.00 |
| Zone 5 | $179.00 |
| Extended Delivery | Contact Us |