Agave attenuata 'Ray of Light'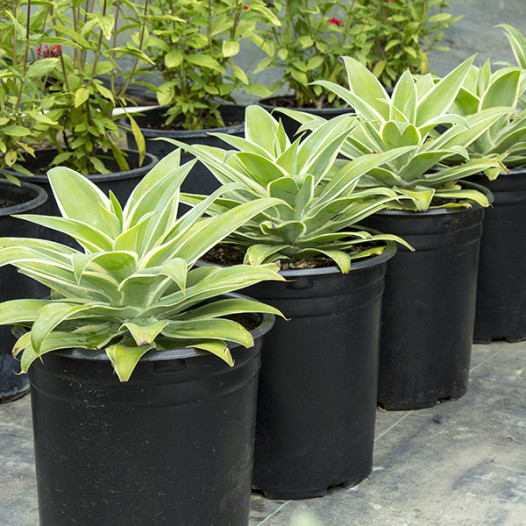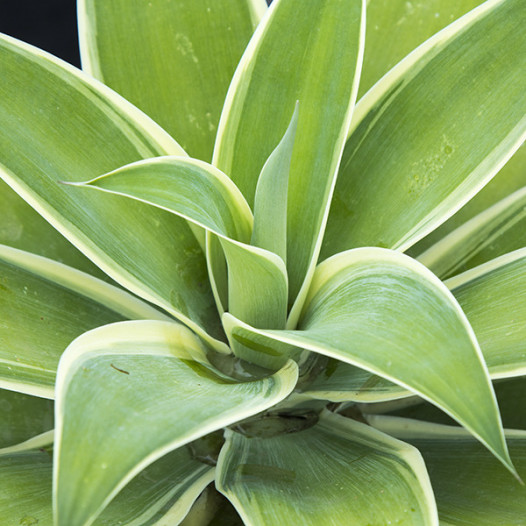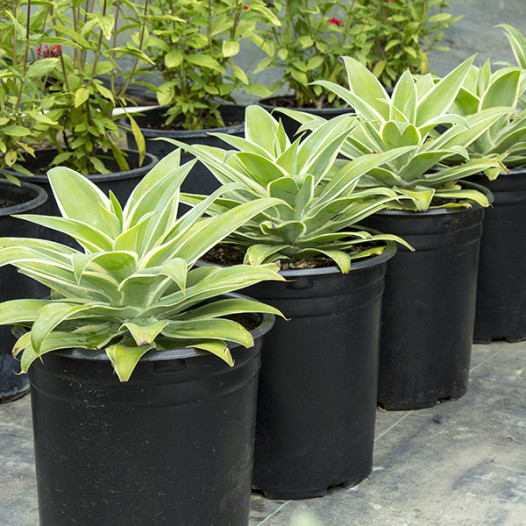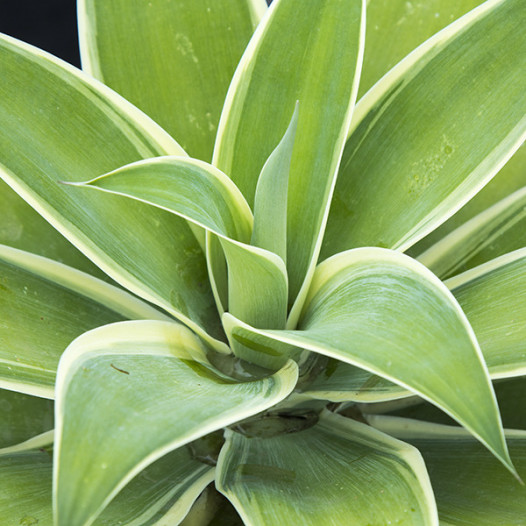 Agave attenuata 'Ray of Light'
A gorgeous variegated cultivar of the Fox Tail Agave.  Unlike many other Agaves, Agave attenuata has soft fleshy leaves as opposed to spiney hard leaves with brutally pointed tips.  That alone makes this Agave a popular selection for the landscape.  What starts off as a single rosette will soon grow 'pups' at the base on eventually in it's maturity will form a clump of multiple rosettes reaching about 4 feet tall by 6-7 feet wide after many years of growth.  The pups can easily be cut off and regrown.  The center of each rosette looks spear-like where the new leaves emerge.  Plant Agave Ray of Light in full sun or shade.  This plant is quite drought and deer tolerant and is suitable for Xeriscaping but looks best with regular supplimental water.  Also very popular for coastal gardens.  Hardy to 28 deg. F. 
---
Foliage: Evergreen
Sun Exposure: Sun Or Shade
Water Needs: Low
Bloom Season: Infrequent
Mature Height: 4-5'
Mature Width: 6-7'
Attributes: Drought Tolerant, Southwestern Garden, Mediterranean & Tuscan Garden, Seacoast Tolerant, Tropical Garden, Shade Plants, Cacti & Succulents
---
Proper planting technique will help your plants thrive! Follow these simple steps to help your plants establish quickly, develop a strong root system, and live longer:
Properly dig the hole
Amend the soil to suit each particular plant
Place the plant and backfill the soil
Provide ample water for each particular plant
Review our how to plant guide!
For detailed information, please download our planting guides:
We deliver to Southern California including Los Angeles County, Orange County, San Diego County, Riverside County, Imperial County, Ventura County, Santa Barbara County, and neighboring areas.
List of delivery zones and rates.

| Delivery Zone | Delivery Rate |
| --- | --- |
| Zone 1 | $69.00 |
| Zone 2 | $89.00 |
| Zone 3 | $109.00 |
| Zone 4 | $139.00 |
| Zone 5 | $179.00 |
| Extended Delivery | Contact Us |