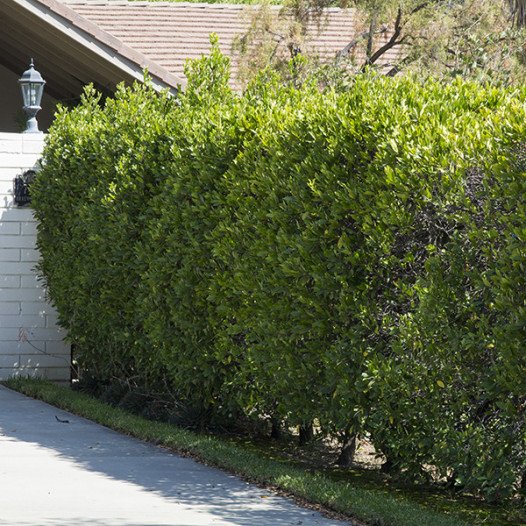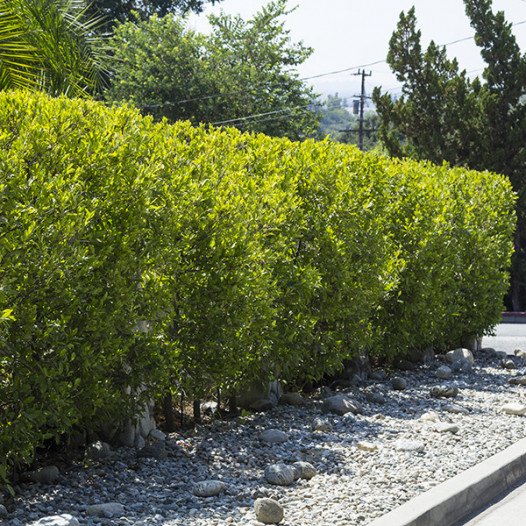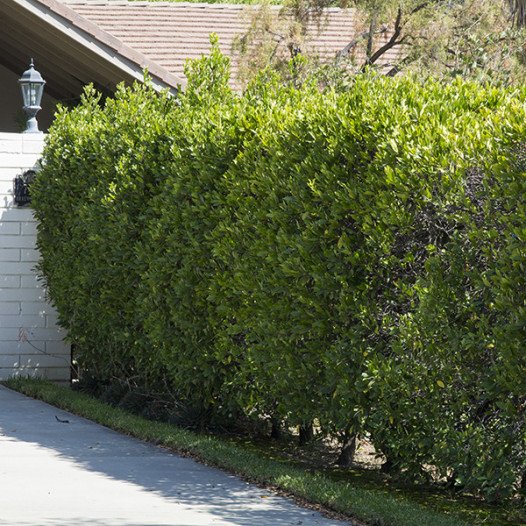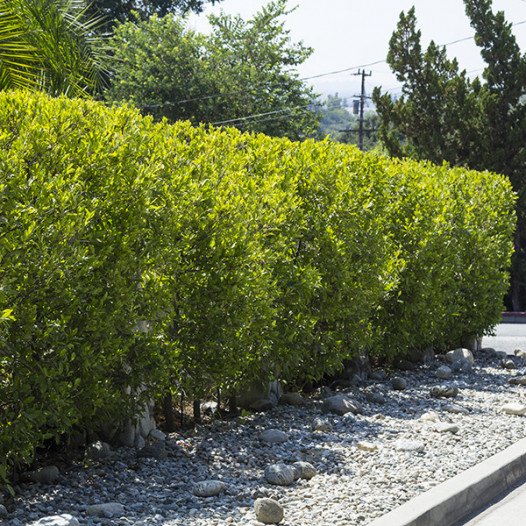 The Carolina Cherry Laurel makes a fantastic privacy hedge.  It has dense evergreen foliage with semi-glossy leaves.  Beautiful creamy white fragrant flowers appear in Spring and Winter.  Prunus caroliniana will grow up to about 25' tall by 15-20' wide.  Not only does this tree make a great hedge, but it can also be used as a smaller shade tree.   It can take full sun or part shade, but will grow less dense in shade.  This plant prefers moist soils, but is also somewhat drought tolerant.  It's also fairly seacoast tolerant, and can take a variety of soil conditions.  Native to Southeastern United States.  USDA Zones: 7-10.  
Note:  5 gallon sizes may range from 2.5-3.5 feet tall.  15 gallon sizes may range from 5-6' by 14" wide.  24" boxes are approx 7-8 feet tall by 20" wide at the base.  Note that 25 gallon plastic tubs may be substituted for 24" wood boxes.  These are averages.  Please inquire if you desire a more specific current height spec.  
---
Foliage: Evergreen
Sun Exposure: Full Sun/lite Shade
Water Needs: Moderate/regular
Bloom Season: Winter/spring
Mature Height: 25-30'
Mature Width: 18-22'
Attributes: Drought Tolerant, Mediterranean & Tuscan Garden, Fragrant, Seacoast Tolerant, Zen Garden, Hedge Plants
---
Proper planting technique will help your plants thrive! Follow these simple steps to help your plants establish quickly, develop a strong root system, and live longer:
Properly dig the hole
Amend the soil to suit each particular plant
Place the plant and backfill the soil
Provide ample water for each particular plant
Review our how to plant guide!
For detailed information, please download our planting guides:
We deliver to Southern California including Los Angeles County, Orange County, San Diego County, Riverside County, Imperial County, Ventura County, Santa Barbara County, and neighboring areas.
List of delivery zones and rates.

| Delivery Zone | Delivery Rate |
| --- | --- |
| Zone 1 | $69.00 |
| Zone 2 | $89.00 |
| Zone 3 | $109.00 |
| Zone 4 | $139.00 |
| Zone 5 | $179.00 |
| Extended Delivery | Contact Us |