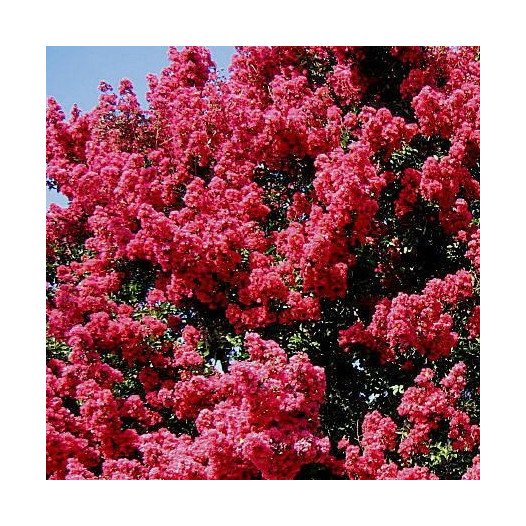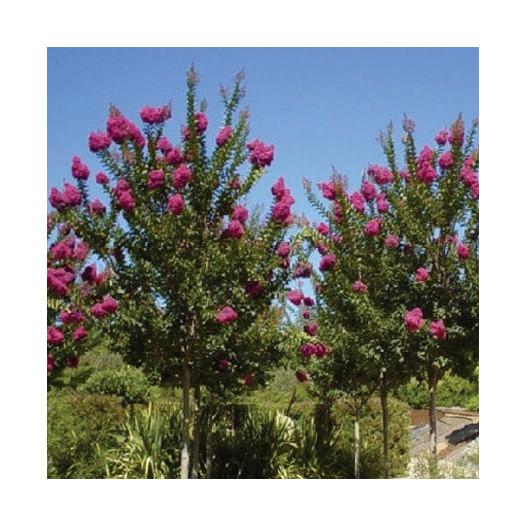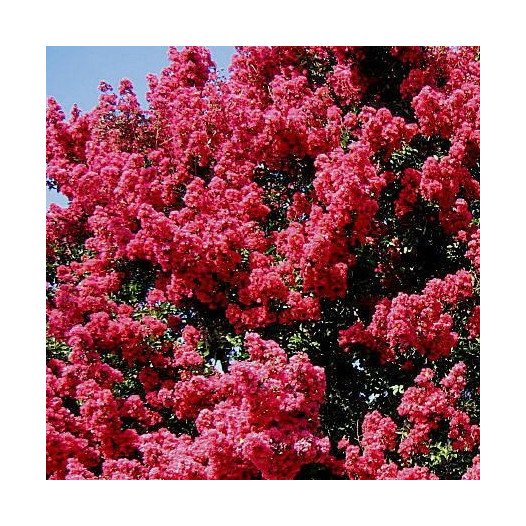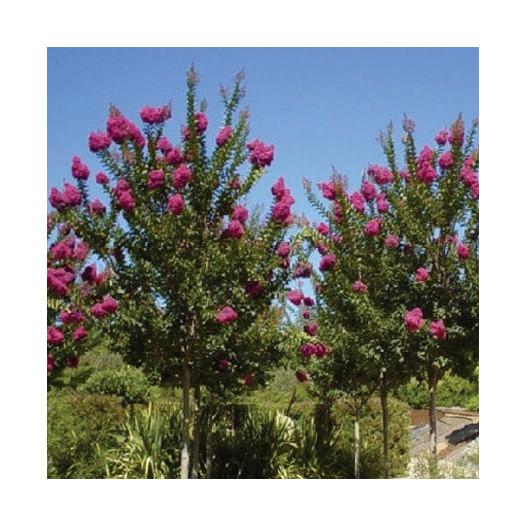 The Tuscarora Crape Myrtle is a beautiful medium-size shade tree which produces large plumes of coral-pink flowers which last nearly all Summer.  Crape Myrtle is know for it's long bloom periods, attractive multicolored bark, and ability to thrive is most Southern California climates.  It can tolerate many types of soil and is fairly drought resistant.  The Tuscarora variety in particular is more mildew resistant than other varieties so it can be used fairly close to the beach. Native to Southeast Asia into Japan.  Because these climates are similar to the US, Lagerstroemia has naturalized in many parts of the states.  The Crape Myrtle will loose all it's foliage in the Fall and start leafing out again in late Spring.  Deep water and use a time release fertilizer for best growth.  Hardy to 35 deg. F. USDA Zone: 6-9. 
NOTE THAT 5 GALLON SIZES ARE NOT LABELED AND WILL BE VARIOUS RANDOM COLORS.  POSSIBLE COLORS RECEIVED WHEN ORDERING 5 GALLON SIZES ARE PALE PINK, RED, WHITE, LAVENDER.  THERE ARE NO GUARANTEES ON COLOR.  
---
Foliage: Deciduous
Sun Exposure: Full Sun (6+ Hours Of Direct Sunlight)
Water Needs: Low/moderate
Bloom Season: Summer
Mature Height: 30-35'
Mature Width: 25-30'
Attributes: Drought Tolerant, Southwestern Garden, Mediterranean & Tuscan Garden, Seacoast Tolerant, English & Cottage Garden
---
Proper planting technique will help your plants thrive! Follow these simple steps to help your plants establish quickly, develop a strong root system, and live longer:
Properly dig the hole
Amend the soil to suit each particular plant
Place the plant and backfill the soil
Provide ample water for each particular plant
Review our how to plant guide!
For detailed information, please download our planting guides:
We deliver to Southern California including Los Angeles County, Orange County, San Diego County, Riverside County, Imperial County, Ventura County, Santa Barbara County, and neighboring areas.
List of delivery zones and rates.

| Delivery Zone | Delivery Rate |
| --- | --- |
| Zone 1 | $69.00 |
| Zone 2 | $89.00 |
| Zone 3 | $109.00 |
| Zone 4 | $139.00 |
| Zone 5 | $179.00 |
| Extended Delivery | Contact Us |